The average American family spends $4,363 on groceries each year and $3,365 on eating out, according to the Bureau of Labor and Statistics. Menu planning can cut your grocery bill drastically as well has help you eat healthier. It does take time on the front end but will save you time and money on the back end. Here is a step-by-step guide as well as the meal planning worksheet.
1. Ease in. What will you eat for breakfast and lunch? Is breakfast cold cereal or do you make breakfast? Is lunch a sandwich every day? Do you plan to meal prep to have lunches on hand? Will you use leftovers from dinner?

2. Capture your week. What do you have going on? Are there evenings you just won't have time to cook? Do you have dinner plans? Jot in your evening plans. This will remind you of nights you want to avoid a detailed recipe or avoid cooking all together.

3. Recipe review. Use websites like Pinterest or do a quick internet search for recipes that you have been wanting to try. Flip through a cookbook to spark your taste buds. Or use this list of staple favorites for ideas.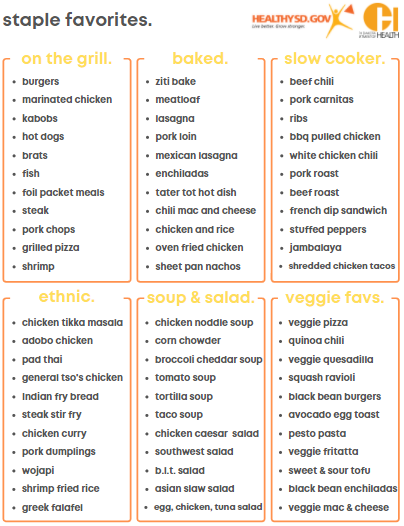 4. Plan it. Put the recipes into your week as you see fit. You can create weeks or even a month at a time if you like. You could create a monthly cycle of 20 recipes if you want to simplify it for yourself. Then write your grocery list each week or however often you plan to shop.

5. Plug it in. Look through your recipes and separate your shopping list into sections of the grocery store to prevent you from bouncing all around the store. Or use this list to complete your online order for pick up. Grocery pick up can save you time. It can also save money as it reduces impulse buys, in turn, helping you eat healthier as those impulse buys are generally less healthy options.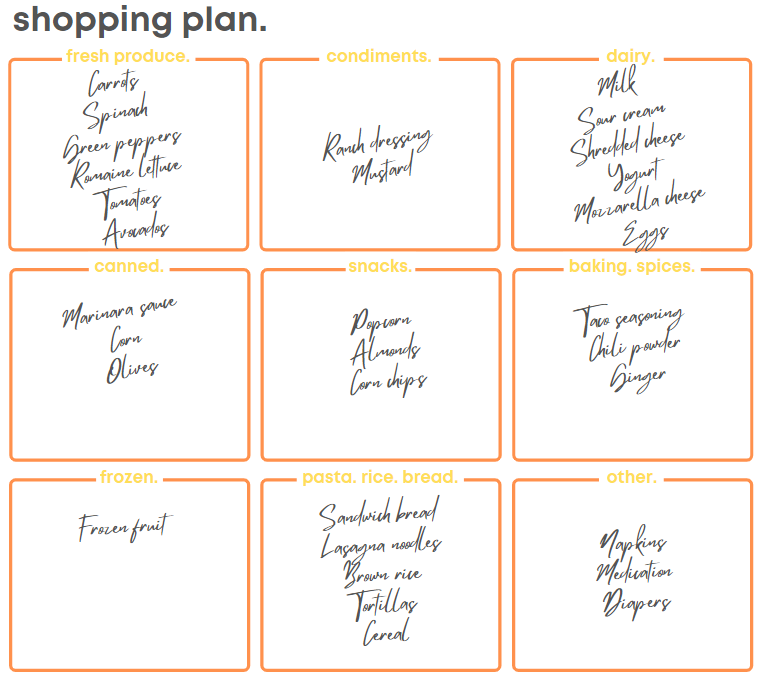 6. Prep it. Can you spare an hour to prep? Cut your veggies, make any sauces, brown any meat, make your lunches, wash fruit or bake and freeze any recipes. Have your partner help you. Involve the kids. Or simply turn on some music and start chopping.
Check out some tips on how you can set and stick to a grocery budget!