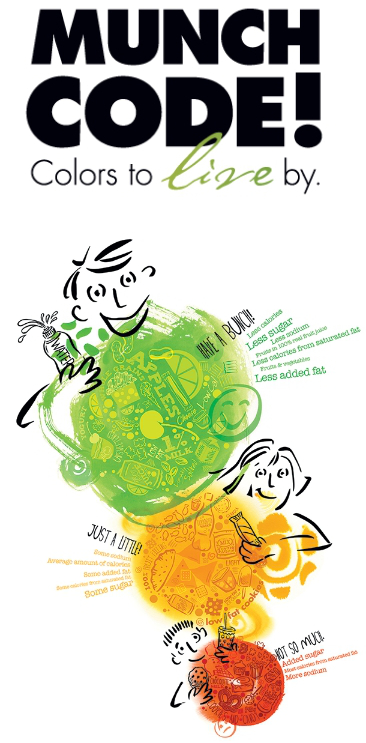 Vending:
Make Snacking Easier
The Munch Code is a color coded labeling program designed to make it easier for everybody to choose healthier snacks.
GREEN foods and beverages are the healthiest options. You can eat a bunch!
YELLOW foods and beverages have added sugar, fat, and calories. Be cautious and have just a little!
RED foods and beverages are the highest in sugar, fat, and calories and the least healthy. Eat these occasionally but remember – not so much!
There are 2 types of snacking environments where the Munch Code color system can be used:

For parents, coaches, teachers or community members looking for ways to make school, club, or church concession stands healthier.
The Munch Code Concessions Model Policy outlines a number of resources and includes strategies to encourage community support.
There's even a concessions kit to inspire and help get you started!
Go To Concessions Page
For employers, human resource or facility managers wanting to make vending and snack bar offerings healthier.
The Vending and Snack Bar Munch Code has been specifically developed for adult use in workplace environments where snacking options are primarily vending machines or snack bars such as: offices, large facilities, airports, hotel/motel rooms, convenience stores, gas stations, bus depots, etc.
Read More
About the Vending Munch Code
The Vending Munch Code was developed to encourage healthy snacking habits – especially in workplace and commercial settings – to help prevent health problems like diabetes, depression and heart disease. Poor nutrition and obesity lowers our quality of life, reduces productivity and drives up healthcare costs.
In general, there are three main Vending and Snack Bar Munch Code priorities:
Clear guidelines for GREEN, YELLOW, and RED coded FOODS based on trans-fat, sodium, calories, calories from saturated fat, and sugar.
Clear guidelines for GREEN, YELLOW, and RED coded DRINKS based on calories per serving, fat content, addition of caloric sweeteners, and sodium content.
Make the calorie content of ALL items, both food and drinks, visible at the point of purchase.
Food and Drink Standards
Food Standards
GREEN FOODS must meet ONE of the CORE CRITERIA:
2%, 1%, or fat-free dairy
Whole, frozen, or dried fruits (including unsweetened applesauce and fruit cups packed in 100% juice or water)
Whole or frozen vegetables
Whole grain products (first ingredient is a whole grain)
Plain nuts or seeds (can be flavored)
GREEN FOODS must ALSO meet ALL of the following:
200 calories or less per item*
230 mg of sodium or less per serving
Zero trans fat (0.5 grams or less per serving)
Total calories from saturated fat: 10% or less*
Calories from sugar: 35% or less of total weight
YELLOW FOODS DO NOT need to meet one of the CORE CRITERIA, but must meet ALL of the following:
250 calories or less per item*
480 mg of sodium or less per serving
Zero trans fat (0.5 grams or less per serving)
Total calories from saturated fat: 10% or less*
Calories from sugar: 35% or less of total weight
RED FOODS DO NOT meet GREEN or YELLOW standards
*excluding nuts and seeds
Drink Standards
GREEN DRINKS
Water with or without carbonation. No flavoring, additives, or sweeteners.
2%, 1%, or fat-free unflavored milk, including lactose-free and soy drinks
12 oz. or less of 100% fruit or vegetable juice with no added caloric sweeteners and 230 mg of sodium or less per serving
Decaffeinated and unsweetened coffee and tea (including herbal tea)
YELLOW DRINKS
More than 12 oz. of 100% fruit or vegetable juice
2%, 1%, or fat-free flavored milk
Diet soda
Any other sweetened drink with 40 calories or less per 8 oz. (i.e. low calorie sports drinks, flavored water, sweetened tea, etc.)
RED DRINKS
Regular soda and sports drinks
Whole milk
Fruit/juice drinks that are not 100% juice
Any other drinks that do not meet the green or yellow standards