---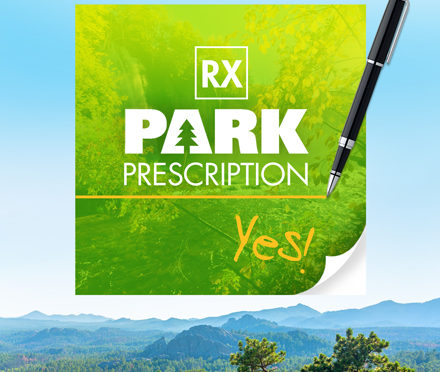 Call to Action: Park Rx
PIERRE, SD, August, 2021 – South Dakota's medical professionals are invited to participate in the FREE Park Rx program and prescribe exercise for their patients.
When participating providers prescribe exercise, their patients fill the prescription by visiting any South Dakota State Park and receive a free day in the park or a discounted annual pass.
Regular outdoor activity and exercise are proven to benefit both physical and mental health. We encourage all providers to sign up for the program and get all South Dakotans to take advantage of our many amazing state parks to work on wellness.
The program is being administered by the South Dakota Department of Health in partnership with South Dakota Game Fish & Parks and SDSU Extension.
Sign up for the Park Rx Program
It only takes a few minutes to get started by filling out the form below:
If you're a patient: The provider you list will be sent Park Rx information that encourages them to sign up.
If you're a healthcare provider: You'll receive an information packet with Park Rx pads in the mail.
Submit a Park Rx Request
Are you a healthcare provider?
Questions? Contact Nikki Prosch (
nikki.prosch@sdstate.edu
)
*required fields
Spread the word!
Talk to your friends and family and tell them how to get their own Park Rx.
Download this flyer. Show it to your doctor or healthcare provider and ask if they are participating in the Park Rx project.
Plan an event in your local community promoting physical activity in parks – involve your school, healthcare facilities, community members, and local businesses. Consider planning your event around National Park Rx Day.
You have so many options to enjoy the outdoors in South Dakota! Discover all the ways you can fill your Park RX Prescription.
Exercise is medicine for everyone!
Regular physical activity can:
improve muscular fitness
aid in prevention of falls
assist with weight management
improve cognitive function in older adults
prevent and help manage certain chronic diseases
Kids benefit, too!
Many children and adolescents don't get the recommended 60 minutes of physical activity each day. Besides building strong bones and muscles, regular physical activity also decreases the likelihood of developing obesity and risk factors for diseases like type 2 diabetes and heart disease. Plus, exercise may give a boost in positive mental health by reducing anxiety and depression. If you're ready to promote youth physical activity, download the Youth Physical Activity Recommendations fact sheet to get started.
Any regular physical activity is beneficial, but doing it while in a park is even better! Outdoor activity improves mental and physical well-being more than indoor activity and spending time in nature is associated with better cognitive development in schoolchildren.
Download the Park Rx infographic and share and display it everywhere for a little extra motivation.
Here's the buzz about Park Rx:
Park Rx is sweeping the nation! As seen on National Geographic and Scientific American!
---
The South Dakota Park Rx project aligns with the vision of the Exercise is Medicine® initiative. The goal is to make physical activity and exercise a standard part of global disease prevention and treatment. Our goal is to increase assessment and prescription of physical activity. Park Rx is a great way to encourage physical activity for your patients.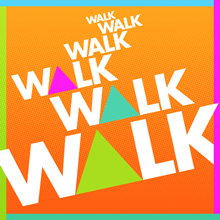 Why Walk 20 Minutes?
There are mountains of research, tons of studies, and endless reports stating Americans need to be more physically active. Of course, the truth is – most of us already know we should be more active – it can't hurt right? But, it seems like everywhere you turn there's different advice on how much exercise is the right amount. Which is why finding the right amount of physical activity, combining it with the right intensity level, and balancing that with the rest of a busy life can feel a tad overwhelming.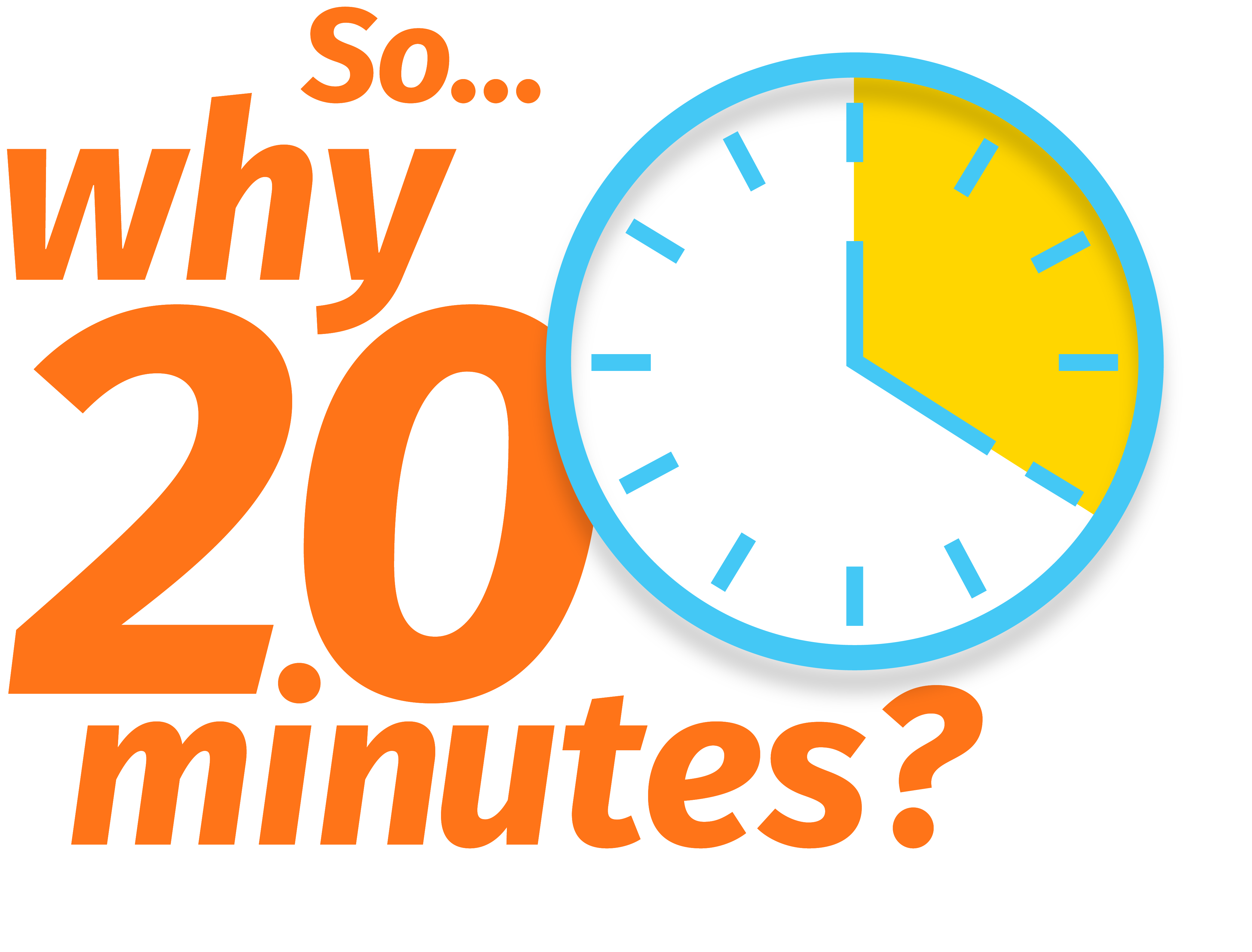 We do our best to keep up with the latest research and recommendations and here are some of the reasons adding about 20 minutes of physical activity to your daily routine makes sense to us and why we think it's a good goal to start you on the path to better health:

1. South Dakotans Need More Physical Activity
According to South Dakota's 2013 Behavioral Risk Factor Surveillance System, only 18.4% of adults achieved the recommended level of both aerobic and muscle strengthening physical activity, and 25.8% of adults are getting NO physical activity outside of work. What's even more concerning is that 72% of South Dakota youth (9-12 grade) does do not get the recommended 60 minutes of physical activity. Bottom line, we all need to get more exercise.
We checked in with South Dakotans on the subject and here's what we found:
Walking works.
When we think about adding exercise to our list, walking is the number one activity of choice, and the one we are most likely to engage in most often.
Walking is more fun with someone.
Friends, family, pets, or co-workers make walking (aka: exercising) easier, something we can look forward to, and something that we will do more regularly.
Walking covers a lot of bases.
No special equipment or membership required. You can walk fast, slow, up, down, in or out. No matter what your personal level of fitness, walking is something that almost everyone can add to their daily routine.
2. Physical Activity Guidelines for Americans Goal: 150 Minutes Per Week
The federal Office of Disease Prevention and Health Promotion works with a variety of federal and state agencies and keeps track of all kinds of data. Based on this data, they have recommended Americans increase the amount of physical activity we get. Specifically, for adults, they recommend at least 150 minutes of moderate intensity aerobic physical activity per week or 75 minutes of vigorous intensity aerobic physical activity or an equivalent combination of both moderate and vigorous intensity.
That might sound a little intimidating, but when you break it down… it's really only about 20 minutes per day.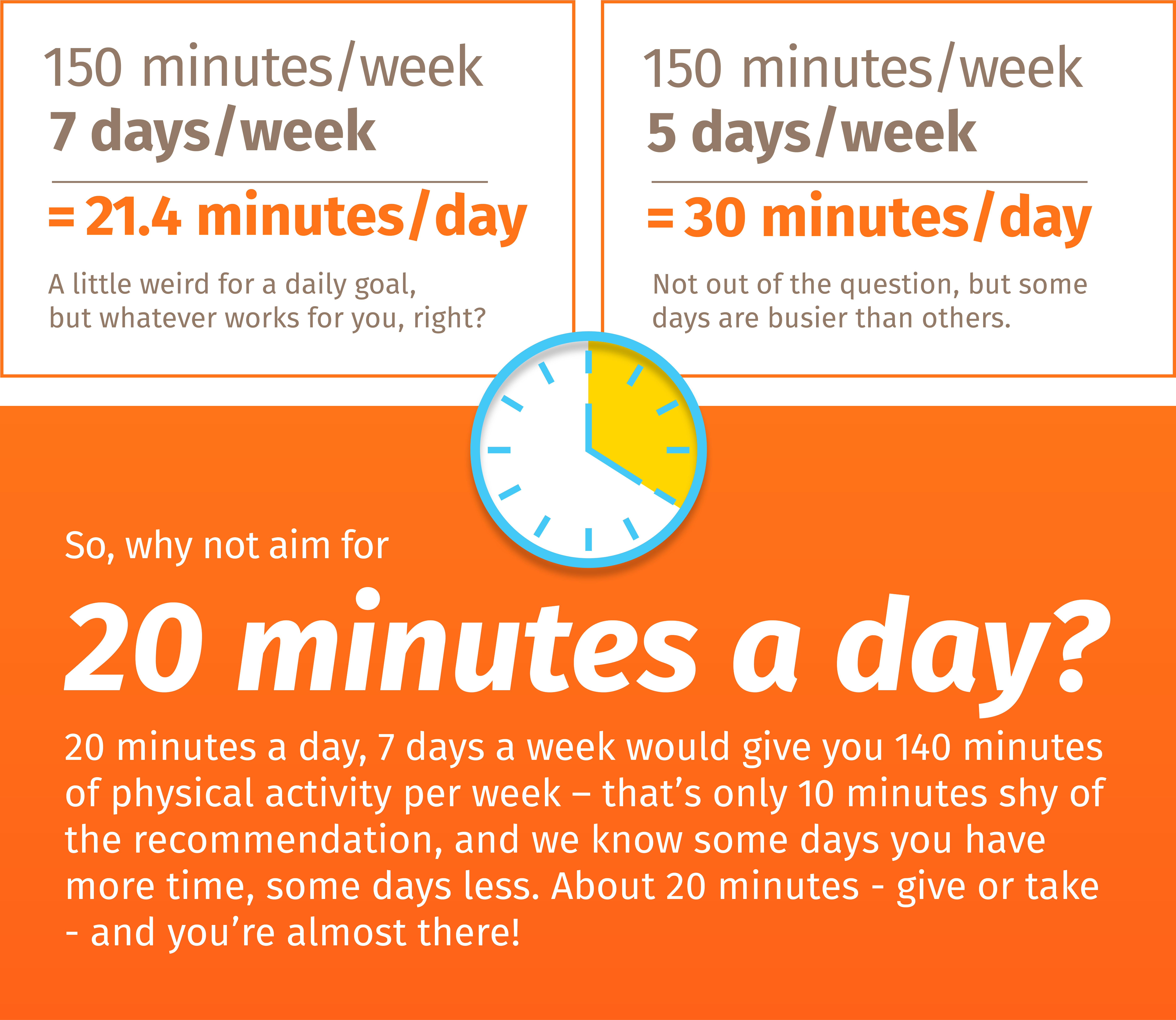 3. Surgeon General's Call to Action to Promote Walking and Walkable Communities
Recently, the Surgeon General also weighed in on the need for more physical activity, pointing to the numerous health benefits of walking with a Call to Action to increase walking across the United States by calling for improved access to safe and convenient places to walk and wheelchair roll and by creating a culture that supports these activities for people of all ages and abilities. And, because walking is one of the easiest and most common forms of exercise, it only makes sense to make walking a national priority.
4. Take The First Step – About 20 Minutes At A Time
There are plenty of sources, reports and recommendations pointing to walking as an easy way to increase levels of physical activity. And most experts will agree that adding between 20 and 30 minutes of exercise to your daily routine is a good place to start. The best part about walking for about 20 minutes a day is that it's an attainable goal. It's long enough to provide a number of benefits to your overall health, and short enough to fit into your regular routine.
So what are you waiting for? Take the first step, grab a friend, and take a walk! All you need is about 20 minutes! Walk, walk, walk!
Sources & Other Helpful References:
2013 South Dakota Behavioral Risk Factor Surveillance System
Get Movin'! Infographic
South Dakota Physical Activity Study
Office of Disease Prevention and Health Promotion: 2008 Physical Activity Guidelines for Americans
HealthyPeople.gov
Surgeon General's Call to Action To Promote Walking and Walkable Communities
America Walks
EverybodyWalk!
More Communities Encourage Breastfeeding-Friendly Businesses
Rapid City Regional Health has taken the pledge to be a Breastfeeding-Friendly Business. All 48 South Dakota Regional facilities are showing their support for breastfeeding moms by creating breastfeeding-friendly environments for both patients and employees. Rapid City Regional Health is the first healthcare system in South Dakota to take the pledge system-wide.
"As healthcare providers, we at Regional Health know how important breastfeeding is for mother, baby, and family," said Shanon Waldner, Director of Women and Children Services. "We have certified lactation consultants in Rapid City and Spearfish to help new mothers. All of our postpartum nurses are trained to assist with breastfeeding, and we have outpatient services available in Rapid City and Spearfish."
Rapid City Regional Health, along with a number of Black Hills area businesses, were inspired to join the movement that has been working its way across the state and now includes nearly 100 cities and towns.
The Breastfeeding-Friendly Business Initiative, launched in 2015, aims to make breastfeeding in public and pumping at work a non-event. Breastfeeding provides many health benefits for both mom and baby, but it's also good for business:
Breastfeeding mothers are more likely to patronize businesses where they feel comfortable.
Businesses with breastfeeding programs have higher employee retention rates.
Breastfeeding moms miss work less often.
Breastfeeding moms report higher work satisfaction and productivity.
Businesses can take the pledge to:
Provide a welcoming environment where breastfeeding mothers are able to breastfeed in public spaces within the business.
Encourage a welcoming attitude from staff, management, and to the fullest extent possible, other customers.
Place the Breastfeeding Welcome Here window cling in each public entrance to the business establishment.
Accommodate breastfeeding employees to allow appropriate time and space necessary to pump, to best of their ability.
Learn more about the benefits of breastfeeding-friendly environments and take the pledge to join the over 600 pledged businesses in South Dakota.
In 2015, Brookings was selected by the South Dakota Department of Health as the pilot community for the Breastfeeding-Friendly Initiative. Aberdeen area businesses joined the initiative in 2016. For more on how these communities adopted the initiative, download their press releases and press kits.
Rapid City Regional Health Press Release