Central Farmers Cooperative/FREMAR, LLC (Central Farmers Coop) is an agricultural based company that provides products, services and market access in the areas of agronomy, feed, grain, and petroleum. Central Farmers Coop applied for and received a WorkWell Mini-Grant through the South Dakota Department of Health. The goal of the grant is to provide South Dakota worksites with funding and resources to send a positive, supportive message and promote healthy lifestyles by preventing, reducing, and managing chronic disease through workplace environment and/or policy change.
The following is a WorkWell Grant success story written by Central Farmers Coop:
One of the challenges that our project addressed was keeping active during the workday. With our 12 locations, and several sites within these locations, it became a challenge to motivate and keep our employees active, especially those who have mostly sedentary jobs. We promoted taking the stairs or walking around the office or building by using posters and emails.
We also decided to address the bigger issue of sitting all day. Approximately 25% of our employees have sedentary roles based on their job description. We asked a local printer to make accordion-fold cards that contained eleven desk stretches. The cards were small and could sit on the desk as a gentle reminder to take activity breaks throughout the day.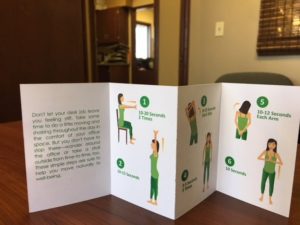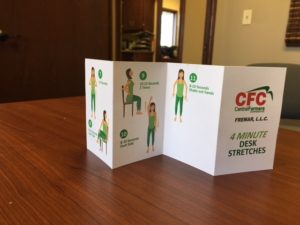 Even though we felt the cards would help, we wanted to take it a step farther. We purchased an adjustable height desk for our employees to test. After a few weeks, we did a survey to see if those participants felt it increased their productivity, reduced their fatigue, etc. With a lot of positive feedback, our committee approached our manager with the results. With management support, we were able to purchase three more adjustable height desks, and place them in our office spaces. A random drawing was done to determine who would receive the desks as there were more requests than could be fulfilled!
With buy-in from upper management and input from our Human Resource and Office Manager, we now have a plan in place to replace old desks with adjustable height desks. We hope that in the future, we will be able to acquire at least one additional desk per year!
"I really enjoy the sit-stand desk! Whenever I use the stand mode, I always feel more productive and it breaks up the tightness I get in my hips when I sit all day. Once spring really gets going, I anticipate using it even more."
~Central Farmers Coop employee that received a standing desk