The YMCA of Rapid City (Y) is a non-profit organization committed to helping families through programs focused on youth development, healthy living, and social responsibility. The Y was one of 13 worksites in South Dakota chosen for the Healthier Vending & Snack Bar (HVSB) pilot project in July 2014.
The goal of the HVSB project is to implement policy, system, and environmental change to improve the food environment by making healthier choices more accessible, more appealing, and more affordable. The project requires snack food and drink items be categorized using the green, yellow, and red traffic light system known as the Munch Code and to make the calorie content for all items visible at the point of purchase.
The project was initiated by the staff wellness committee to improve food and drinks that were offered in the Youth Center. The Youth Center is most often used by kids ages 6-17, but is also used by Y staff and members after 2pm when the Courtyard Café closes. It is set up as a snack bar with products purchased, stocked, and sold by staff members. There is no outside vendor.
Challenges & Barriers:
An initial barrier was finding staff time to devote to planning, purchasing, categorizing, and labeling products. It also took time to find products that the kids wanted to eat and did not go to waste. Another challenge is staff turnover. Almost all of the staff that started on the project in 2014 are no longer working at the Y, requiring continuous re-training on the Munch Code standards.
Solutions:
Although some of the challenges seen at the start of the project with time constraints and staff turnover persist, the Y continues to train staff and devote time to ensuring healthier foods and drinks are made available to their youth.
Results: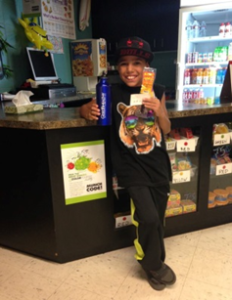 The Y found that using point of purchase information through Munch Code signs and color-coded stickers and considering product placement and attractiveness were keys to enhancing sales of healthier items. During the process, Y members and parents would ask about the changes and seemed pleased to see healthier options available. Staff even witnessed people changing their minds and choosing a healthier option after noticing the Munch Code. Staff learned the importance of not making food purchases based solely on price, strategically placing green foods to increase sales, and using positive reinforcement when kids purchase healthier options. As an incentive, kids received a punch card for choosing healthier options. Mason (pictured right) was the first kid to fill up his punch card. He received a water bottle and healthy snacks as a prize!
"Kids will buy anything if they have money to spend. If we praised them for making healthier food choice and other kids heard that, then, they too would make healthier food choices to get praise."
~ Nicole Craig, Wellness Director
Overall there was an increased awareness of the importance of creating a healthy, supportive environment. Staff brought in a few more green items and permanently removed some red items. One of the greatest achievements for the Y was the development of a rule that no one under the age of 18 could purchase soda!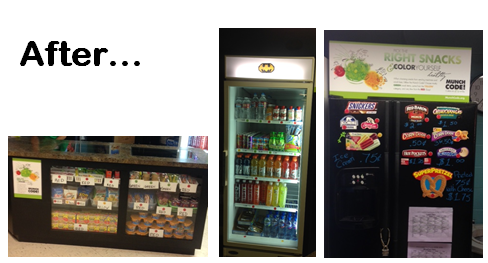 Future Plans:
The Y's goal is to continue to stock healthier options and to prioritize the time necessary to keep the youth, staff, and members motivated and excited. They also want to ensure all attending youth can recognize, read, and understand a basic food label.