The City of Mitchell (COM) employees are in multiple sites across Mitchell, SD. The worksite is vast and diverse with 189 full-time employees and hundreds of part-time employees. With the many different locations in the city, there are also multiple different job types.
The COM received the South Dakota Department of Health Steps to Wellness Grant to improve the physical activity environment in the worksite and implement a policy to support active employees. The COM set a goal to educate their employees on various wellness topics, and also provide opportunities for them to be active during the workday! The COM attempted multiple challenges and programs that weren't successful, but after the Steps to Wellness Grant, they were able to implement a project that fit a lot of different locations and job types within their workforce.
Walking Route Signage and Employee Wellness Portal: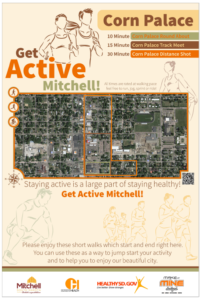 The COM developed and purchased wayfinding signage that displayed a 10-, 20- and 30-minute walking route to and from a starting destination. Signs were placed across the city at the different worksite locations, providing personalized walking routes with a start and ending point from their worksite. The wellness team felt that individual routes personalized to the employee location would create more buy-in and provide an easy opportunity to take advantage of the environmental support for physical activity.
The COM also created a tracking software that synced directly with QR codes on the signage, Get Active! App. The tracking App allows employees to log usage of the walking routes and have the information directly synced to the employer. Since the signs have been installed, the Get Active! App has morphed into a full-service wellness portal, with specific portals for preventative services, inter-department wellness challenges, and article generation for current wellness topics.
Additional Successes:
The general public in Mitchell has also started using the signs to map out their own walking/running/rolling routes and are embracing the idea of putting these up all over the city. The COM was able to establish a larger-scale wellness portal for employees through the start of the Get Active! App. The overall wellness portal is controlled by the COM worksite wellness
team and provides a direct form of communication to employees to serve as a platform to educate and motivate on various wellness topics and goals.
Challenges/Barriers:
The biggest barrier the COM faced was getting the initial buy-in from all the department heads located within their business, a few that didn't fully understand the concept and goals of the project. The COM was able to communicate their plans and work through any questions about the project and successfully implement. With such a diverse workforce, the COM has struggled for years to come up with a wellness program that fits all their workers.
The COM plans to continue worksite wellness initiatives for their employees. They want to continue plans to educate, motivate, and innovate with their employees!
"Working with the South Dakota Department of Health was an easy, seamless process, filled with nothing but professional people who have the best interest of the worksites in mind." 
~Thomas Gulledge, City of Mitchell Recreation Coordinator