Evans Plunge Mineral Springs, commonly known as Evans Plunge, is a water park, recreation and tourist destination in Hot Springs, South Dakota. Hot Springs is known for just that, its natural river of warm water springs. Evans Plunge was built in 1890 over the numerous small, sparkling springs and one mammoth spring of mineral water. Originally, Evans Plunge and the other mineral baths in Hot Springs were sought as a cure-all for a multitude of illnesses. A lot has changed in Hot Springs since 1890. No longer promoted as a cure for ills, the water still invites visitors for rejuvenation, refreshment, relaxation and recreation. Purchased by the City of Hot Springs in 2013, Evans Plunge has established itself as a tourist destination and is focusing on re-branding itself as a place of health and wellness.
Evans Plunge received the South Dakota Department of Health Healthier Vending & Snack Bar (HVSB) Grant in July 2015 to improve the food environment at their snack bar by making healthier choices more accessible, more appealing and more affordable. The grant requires snack food and drink items be categorized using the green, yellow and red traffic light system known as the Munch Code and to make the calorie content for all items visible at the point of purchase. Focusing on offering healthier snack bar options fit well within the new brand direction but required Evans Plunge to discard the status quo of being a tourist facility that appeals to the indulgences of folks seeking sugary drinks and unhealthy snacks.
Challenges/Barriers:
A primary challenge was maintaining current clientele while working toward the new total wellness brand. The snack bar originally consisted of typical snack foods such as pre-heated hot foods including pizza and corn dogs in addition to candy, chips, fountain soft drinks and bottled soft beverages. The availability of healthier products combined with the traditional mindset held regarding what snack bars should look like posed additional challenges. It took time to determine what healthier products had traction with the target audience.
Solutions:
Despite these challenges, the Hot Springs community, membership base, parents of young swimmers and tourists from other states and countries have responded positively to the healthier food options available to them. Evans Plunge has made a variety of changes and improvements to increase sales of healthier products such as strategic product placement and attractiveness, point of purchase information, taste tests and more. Enhancements were made to product display cabinets not only for placement of products but to accommodate new products, matching baskets, lights and additional signage. Staff found that children love the green, yellow and red Munch Code stickers and inquire about them and their meaning. Munch Code promotional signs are also displayed to attract the attention of clientele and provide education about the color-coded stickers. Taste testing was conducted to develop a healthier popcorn recipe using less oil and salt. Three popcorn recipes were tested with a group of "regulars" who order popcorn each and every time they come to Evans Plunge. The taste testers were unanimous that the "Green Recipe" was very good and has been used exclusively since that time. Evans Plunge also worked diligently with their food and drink vendor to ensure availability of healthier products. Contractual changes were not made, but open communication about the desire for healthier options has created a positive relationship and continued improvement and expansion of products.
Results & Successes:
Evans Plunge has been excited by not only the publics' reception to the new, healthier foods, but also the staff's. By using the Munch Code, those purchasing from the snack bar are more cognizant of the quality of their food and the nutritional effects their foods have. Clientele that previously purchased nutrient-lacking snack food, especially for their children, make purchases of items that score a green or yellow on the Munch Code in lieu of red items.
"We increased the ratio of our green to yellow and green to red products considerably after conducting a comprehensive review of each snack food item we carried. This resulted in decreased red items and a noticeable increase in yellow and green food items." ~ Nolan Schroader, Hot Springs City Administrator
Table 1 shows the distribution of items of each Munch Code color category at Evans Plunge before and after implementation of the HVSB Grant and Figure A shows this distribution visually in a bar chart. The percentage of green items increased from 12.7% to 27.3%, while the percentage of red items decreased from 52.4% to 34.1%. This shift was positive and was statistically significant.
Table 1. Distribution of food items by the Munch Code, before and after implementation of the HVSB Grant

Figure A. Bar chart of distribution of food items by the Munch Code, before and after implementation of the HVSB Grant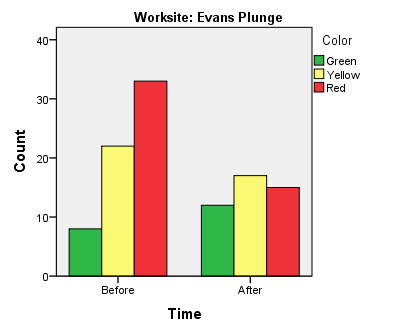 An important accomplishment by Evans Plunge was implementing a Healthier Snack Bar Policy that commits them to continue to provide an environment that encourages healthy eating habits by using the Munch Code and stating calorie content. Evans Plunge has found that the introduction of healthier food and beverage items has underscored the overall approach to promote the new brand as one of health and well-being, achieved in natural ways.
"I believe both staff and patrons benefitted from our Munch Code education as I have personally viewed better food choices being made by many. It was delightful to see a happy parent pull an organic applesauce pouch out of the cooler for a toddler and remark to her about Evans Plunge 'having something good for you to snack on.' Moving forward, we will continue to offer additional healthier choices in addition to general concession fare as we research more available snack options. We appreciate having been a past recipient of a Munch Code Grant and hope others will take advantage of this opportunity to educate on healthy food choices as well." ~ Kris Hanson, Evans Plunge Facility Director
Lessons Learned:
Staff buy-in of the Munch Code has shown to be effective in demonstrating to the target audience the new choices available to them. Further, staff has been supportive in the procurement of different food items, providing feedback to the Facility Director when purchasing healthier snacks and beverages.
Short term goals are to continue to have quick inventory turnover of the existing healthier items. Long-term goals include phasing in more products to shift the ratio to be more in favor of green and yellow food and beverage items. The next step for Evans Plunge is to be continually engaged in promoting healthy living. Specifically relating to the foods and beverages offered, to be mindful with each purchase to think how it will be received by the customer, and what benefits it will offer their life.
---
Is your worksite interested in offering healthier food and drink options in your vending machine, snack bar and/or cafeteria? Click here for more information about the Healthier Vending & Snack Bar Grant under the 'Healthy Eating' tab.