The SD Department of Health and Department of Game, Fish and Parks are teaming up to encourage healthcare providers to provide their patients with a prescription for physical activity in any South Dakota State Park.
Healthcare providers can now prescribe a free 1-day pass to any SD State Park. This 1-day pass can also be turned in for a discounted annual pass.
This exciting new project is a great way for the healthcare community to help educate South Dakotans on the overall health benefits of exercise and to promote increased physical activity. And, it's a fantastic motivator for anyone looking for another reason to get out and be more active!
Healthcare providers can request Park Prescription Pads by emailing Nikki Prosch (nikki.prosch@sdstate.edu)
Ask your doctor about a Park Prescription today!
Exercise is great medicine for kids too!
The number of health benefits associated with regular physical activity is practically endless, and yet many children and adolescents don't get the recommended 60 minutes or more each day. CDC and several partner organizations have developed the Youth Physical Activity Guidelines Toolkit, which offers strategies that schools, families, and communities can use to support youth physical activity.
If you're ready to promote kids and physical activity – get the toolkit at CDC.gov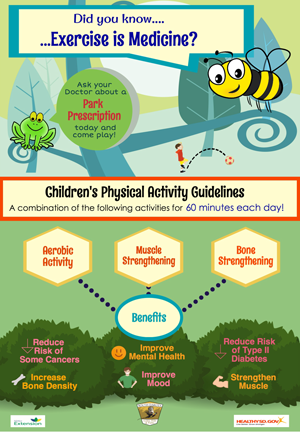 ---
For a complete listing of South Dakota State Parks and to find the ones closest to you visit South Dakota Game, Fish & Parks.
For more information about exercise assessment and prescription, please visit ExerciseIsMedicine.org
ParkRx.org provides information about the national park prescription program as well as the incredible physical, mental, and social benefits of exercise in nature.
To find out how to measure the level of physical activity that's right for you, talk to your doctor and visit Health.gov