The South Dakota Department of Health and the Department of Game Fish and Parks are teaming up with doctors and healthcare providers to encourage physical activity through the Park Rx program.
The program encourages healthcare providers to prescribe exercise – and when they do – patients can take their Park Rx to any South Dakota State Park and turn it in for a FREE 1-Day pass or a discounted annual pass.
The trend to prescribe physical activity is sweeping the nation and we want healthcare providers in South Dakota to sign up. Here's how you can help:
Spread the Word – talk to your friends, family, and ask your doctor or provider if they are participating in the Park Rx program.
Plan an Event during National Park Week and register it at ParkRX.org. Involve your school, community, or workplace, and be sure to let your doctor or provider know so they can plan their own events!
Let Us Help – fill out the form below and we'll send your doctor or healthcare provider information on how they can sign up and start prescribing exercise in South Dakota state parks.
Visit a Park Near You – make it a habit and explore all of South Dakota's fantastic state parks!
Yes! Please send my provider information about the Park Prescription Project!
Questions? Contact Nikki Prosch (nikki.prosch@sdstate.edu)
*required fields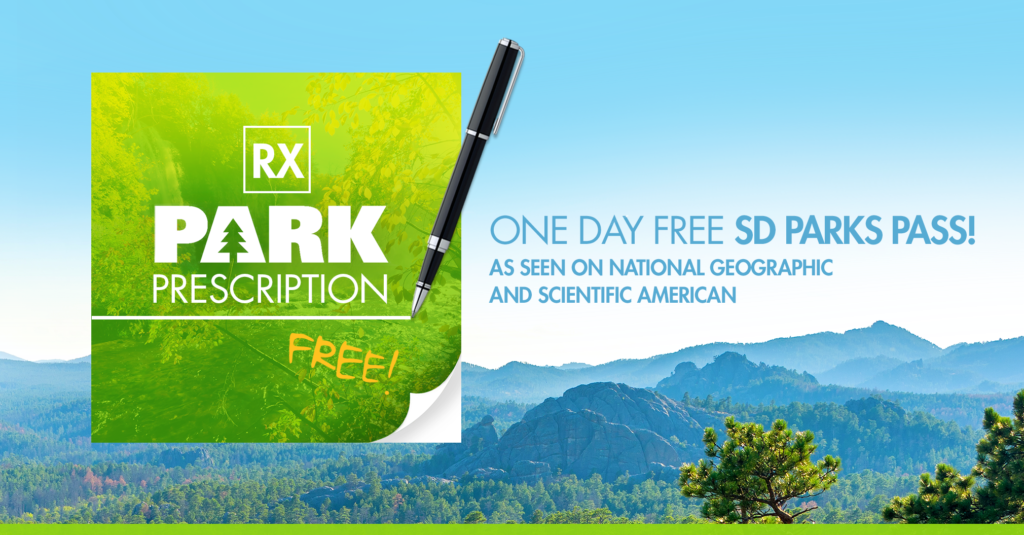 Park RX is sweeping the nation! As seen on National Geographic and Scientific American!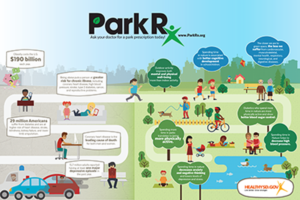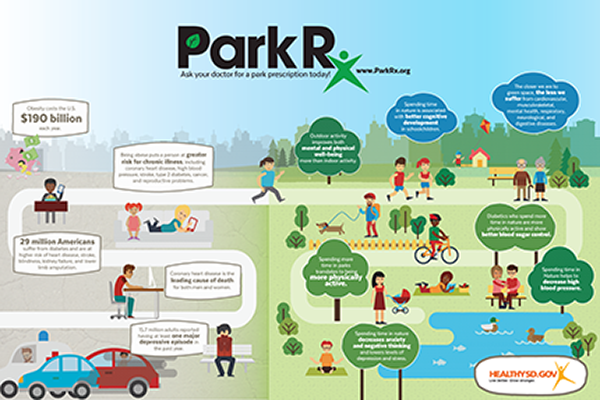 The South Dakota Park Prescription Project aligns with the vision of the Exercise Is Medicine initiative. The goal is to make physical activity and exercise a standard part of global disease prevention and treatment. Our goal is to increase assessment and prescription of physical activity. Park RX is a great way for you to encourage physical activity for your patients.
---
For a complete listing of South Dakota State Parks and to find the ones closest to you visit South Dakota Game, Fish & Parks.
For more information about exercise assessment and prescription, please visit ExerciseIsMedicine.org
ParkRx.org provides information about the national park prescription program as well as the incredible physical, mental, and social benefits of exercise in nature.
To find out how to measure the level of physical activity that's right for you, talk to your doctor and visit Health.gov
---
Exercise Is Medicine for Everyone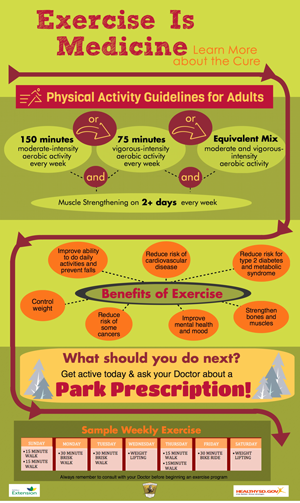 We've all heard that physical activity is good for us, but did you know that regular physical activity can improve muscular fitness, aid in prevention of falls, assist with weight management and improve cognitive function in older adults?
And, research has shown physical activity can effectively prevent certain chronic diseases and help treat or monitor others. It's true! Here's an example – if a person has been diagnosed with cardiovascular disease, physical activity can be used to help manage it. If it runs in your family – regular physical activity can prevent it entirely! How cool is that!
If you or someone you love needs a little motivation, talk to your healthcare provider about a prescription for physical activity!
Exercise is Medicine for Kids Too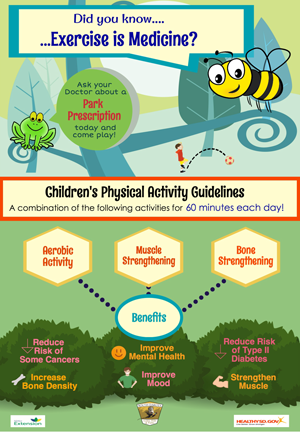 The number of health benefits associated with regular physical activity is practically endless, and yet many children and adolescents don't get the recommended 60 minutes or more each day. The CDC and several partner organizations have developed the Youth Physical Activity Guidelines Toolkit, which offers strategies that schools, families, and communities can use to support youth physical activity.
If you're ready to promote kids and physical activity – get the toolkit at CDC.gov