Most kids get too much salt, but you can help set them on a healthier path from the start by learning what the highest sodium foods kids are eating.
About 90% of kids eat too much sodium.
Kids' preferences for salt-tasting foods are shaped early in life.
Parents and caregivers can help lower sodium by influencing how foods are produced, purchased, prepared, and served.
Foods that add the most sodium to the diet, ages 6-18:
Bread and rolls
Pizza
Sandwiches
Cold cuts and cured meats
Soup
Burritos and tacos
The sodium kids eat comes from every meal and snack:
14% at breakfast
31% at lunch
39% at dinner
16% at snacktime
Most of the sodium kids eat is already in the foods they get from grocery stores, restaurants, school cafeterias – and NOT from the salt shaker.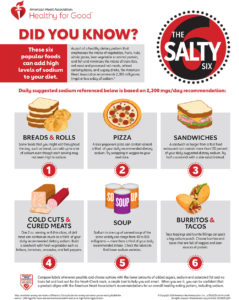 Source: American Heart Association